From 2 to 6 March 2021 the Continental African Championships took place in Egypt. This took place on a challenging course and more difficult than first predicted, with very strong winds during that week in Cairo.
In the elite men's and U23 race 81 riders were on the start line, in the elite women's and U23 race 29 riders from 11 countries were ready to start.
For the junior men's road race there were 28 riders, for the girls 12. It is a pity that the African federations do not support this category better, they are the future of African cycling. On the other hand, it remains a financial challenge for many African cycling federations to get everyone there and to let them participate.
Furthermore, it is striking that South Africa stands out. In the juniors M/W, U23 M/W and elites M/W, all gold medals went to South Africa in the individual time trial event.
Could it have something to do with the fact that the BPP or the purchasing power in South Africa is one of the highest on the African continent, so they can better frame and equip themselves?
One can also notice that there are big time differences in the road race with the men and women. For example, in the men's elite and U23, of the 81 participants, 23 finished the race and only place 17 to 19 crossed the finish line together at 15 minutes & 19 seconds from the winner. This may indicate that in addition to a tough competition, there is still a big difference in level between them, while here in Europe everyone is close to their top level.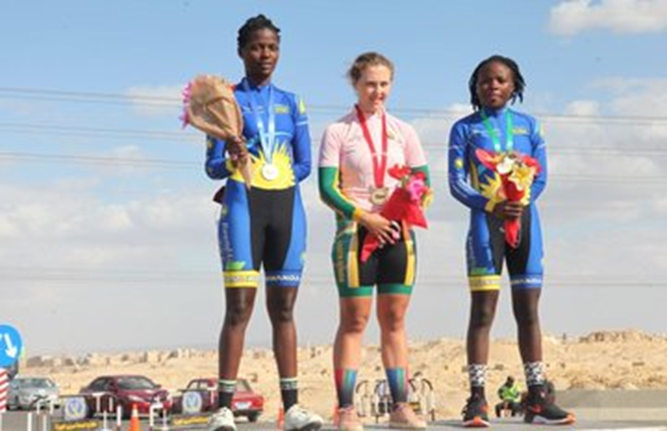 However, it can also be noted that through hard work and if the will is there within the federation to lift the sport to a higher level, progress and results can also be achieved. Look at Rwanda, which went home with a total of 14 medals. Hopefully this will be contagious for other African countries.
The real African top athletes were not at the start of these championships.
Ashleigh Moolman (and her team) preferred the Strade Bianche where the 2020 world champion finished 11th.
The better Eritreans were also in Europe. Eritrea, perhaps the cycling country on the African continent, has been producing the best riders for years with some of them able to compete at World Tour level. Perhaps tradition is also important to be able to continue as a cycling country. Eritrea has a long tradition of organising cycling races through the colonisation by Italy from 1886 to 1960, which brought cycling there, and consequently it has many cyclists.
During the African Championships, Biniam Grmaye (20 years old), a great talent from Eritrea, competed in the Trofeo Laigueglia in Italy. Won by Bauke Mollema, ahead of Egan Bernal and our countryman Mauri Vansevenant, he became 9th and the first rider from a non World Tour team.